Description
CLEAN YOUR HOME IN HALF OF THE TIME & GET UNDER THOSE HIDDEN DUSTY SURFACES 

Suits various surfaces & floors, can be used in many places such as in the garage, kitchen, bathroom, living room & more to clean outside windows, bookshelf, wardrobe, etc.
HUMANIZED FREE BENDING & REMOVABLE
The handle is Removable and the microfiber area can also be Bent, convenient for you to clean different places! Hanging hole desing for the easy store, and hangable air-dried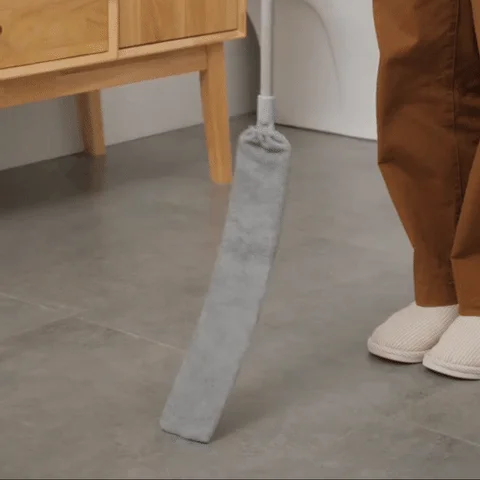 CLEAN THE DEEPEST & NARROWEST GAP AT EASE
The Meta Cleaner cleans gaps easier and quicker with the flat design, it can reach the narrowest gap and attract dust and hair firmly, while cutting down your dusting time. 
EXCELLENT QUALITY
Duster with handles are strong, microfiber dusters will not lose hair and can be used for many years! Additional pick-up capability for more efficient cleaning with extreme absorption. 
EASY TO CLEAN
SPECIFICATION
Material: Microfiber towel cloth
Product weight: 300 Gram
Package Contents: 1 Retractable dust cleaner + 2 pcs cloth
Product sizing:
---
Just what I needed.
---
Just what I needed.
This little tool is essential in these days of refrigerators with coils on the bottom. I can see my mother cleaning back coils with a special duster back in the day. The necessity to keep the coils clean is just as critical today, and the position just draws dust like a magnet. This handy little gem is thin enough to drag under there and really get out the schmutz. I am very happy with the size and function. The removable "sock" is easy to clean and I truly feel that I have lengthened the life of this 'fridge. I did have to pull the appliance out to get at all sides, but I am very pleased with it doing exactly what needs to be done.
---
Michelle n.
Verified Buyer
Great Under Appliance Cleaner!
Excellent delivery, for your own business! For a long time I wanted this, finally you can clean it under the refrigerator! It's good that additional napkins did not order, because these are really ordinary rags that are sold everywhere in the roll. Not a pocket, just napkins. And the pen would like to be more authentic of course centimeters by 20. And in the rest, an excellent product! Thank you to the seller, asked to send quickly, what he did!
---
Archie Gerona
Verified Buyer
Excellent cleaning gadget!
The best cleaning gadget for appliances that are too heavy to move to be able to clean/dust the floor underneath